frequently asked questions
I'm a bit confused. How do I actually play the game?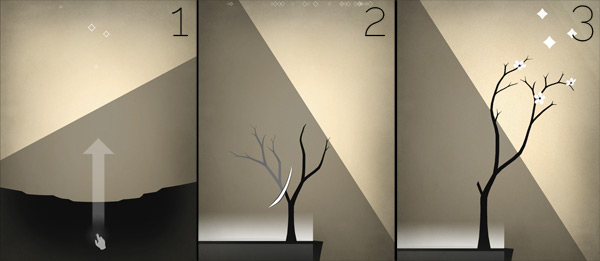 1. Plant your seed in the ground by dragging your finger from underground up.

2. Swipe to cut branches for growth. E.g. - If you want to grow your tree to the right, cut the left branches.

3. Reach your tree into the sunlight to bloom enough flowers. The number of flowers required on each level is represented by the stars in the sky.

Be sure to play and experiment!
I'm not hearing any music/sound on iOS. What's the deal?
Check and make sure the side switch on your device isn't set to mute.

If your side switch is set to orientation lock or if you have a newer device, please see the following help article:
About the iPad Side Switch.
I've encountered a bug/crash, what do I do?
Please email us at the address down below! The more information you can give the better, including your device model, iOS version, game version, level number, etc.
When installing/running the game on Android I get an "App not installed" or "Package Access Helper has stopped" error message (963/907), what do I do?
This is usually an issue with having an SD card mounted on your device. Try unmounting the SD card and running the install again. I'm currently looking in to a fix for this.
Prune won't install/run on my Windows device. Do you have something against Windows users?
Definitely not, I'd love for Windows users to be able to play Prune!

Usually when the game won't run on a Windows device this has to do with the Windows Store not fully downloading/installing the game (it sometimes gets "stuck"). I'd recommend restarting your device, going back to the Prune page on Windows Store, and giving it another shot reinstalling. If it continues to not want to play then definitely shoot me an email!
If you still need help, please don't hesitate to e-mail us at:

support@prunegame.com

...and we'll try to get back to you as quick as possible!